Ad blocker interference detected!
Wikia is a free-to-use site that makes money from advertising. We have a modified experience for viewers using ad blockers

Wikia is not accessible if you've made further modifications. Remove the custom ad blocker rule(s) and the page will load as expected.
Welcome to Tales of the Abyss Wiki




Wanna be Tales of the Abyss Wiki Affiliates  ? Just ask the creator of this page or if his not available, you can just upload the picture directly.
talesabyss_wiki on twitter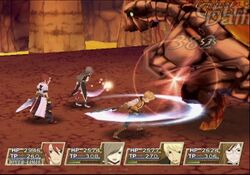 Tales of the Abyss is a video game produced by the Namco Tales Studio. It is the eight installment of the main Tales Games. It was released in Japan for the PS2, then later in the United States. In Japan, this game was released exactly 10 years after the first Tales Game, tales of Phantasia was released.
read more...
Create blog post
Okay I have to know, what exactly did people like about this game? I tried, I really really tried to like it. I was excited to play it since it was supposed to be the 'best' of the "tales of" games a…

Read more >

....I just made like, twenty stub pages. I DECLARE TODAY STUB DAY! (Rushes of to extend stub pages)

-Chocobo

Read more >

51 edits! Yay!

....Miew has some pretty interesting quotes. So does Jade. In fact, Jade is hilarious.

Read more >
See more >
Favorite god generals characters